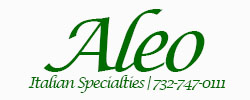 A La Carte

10 to 12 servings per half tray or 20 to 24 servings per full tray
Any dish can be made gluten free, please note we are not a 100% gluten free facility
Specialties

Priced per item
| | | |
| --- | --- | --- |
| Rice Balls | Mozzarella en Carozza | Potato Croquettes |
Rice Balls
Mozzarella en Carozza with a side of Marinara
Prosciutto Balls

Potato Croquettes
Mozzarella Sticks with side of marinara
Fried Ravioli with side of marinara
Rice balls are available in a full tray (40 pieces) or a half tray (20 pieces) and can also be made as minis.
Eggplant

Eggplant Rollatini

layered with marinara sauce and mozzarella
fresh ricotta and mozzarella with marinara sauce
stuffed with prosciutto, sun dried tomato and mozzarella with marinara sauce
spinach, ricotta and mozzarella with marinara sauce
Pasta

marinara sauce, ricotta and mozzarella

beef and pork in tomato sauce

beef and pork in tomato sauce

over penne with prosciutto
in alfredo sauce
whole wheat pasta in marinara sauce

Baked Ziti

Cavatelli with Broccoli Rabe, Garlic & Oil

with your choice of either meat and cheese, spinach and cheese, vegetable and cheese or cheese only
black olives, green olives and capers in tomato sauce


Lasagna Rolls with Marinara Sauce

with marinara sauce
sauteed vegetables over penne rigate
in our tomato cream sauce
prosciutto, mushrooms, peas and onions in a tomato cream sauce

with artichoke hearts, asparagus, broccoli rabe and sun dried tomato

tomato cream sauce

Rigatoni with Sausage

with marinara sauce
sauteéd sausage in basil tomato cream sauce
Poultry

| | |
| --- | --- |
| Chicken Rollatini | Chicken Valentino |
with bell peppers in a reduced balsamic and burgundy wine sauce
served with blue cheese dip and celery
smoked mozzarella, imported prosciutto and mushrooms in chardonnay sauce
asparagus, roasted peppers and bacon in tomato cream sauce
layered with basil, tomato and mozzarella
fresh breadcrumbs, garlic, oregano and white wine
sauteéd red bell peppers and onions in a tomato sauce
Chicken Cordon Bleu
stuffed with ham and swiss in white wine sauce
served with side of honey mustard
stuffed with spinach and cheese in white wine sauce
served in lemon white wine sauce
spinach and portabella mushroom in red wine sauce
with fresh tomato, garlic and basil
with sauteéd mushrooms with Marsala wine
sauteéd assorted mushrooms and fontina cheese
homemade fresh mozzarella and marinara sauce
reduced port wine and sage sauce
lemon white wine and caper sauce
stuffed with imported prosciutto and fresh mozzarella in chardonnay sauce

imported prosciutto, mozzarella and spinach in Marsala wine and sage sauce
sundried tomatoes, roasted peppers and mushrooms in Marsala demi glaze
chicken and sausage sauteéd with vinegar cherry peppers in red wine sauce
layered with imported prosciutto, sauteéd eggplant and mozzarella with lemon chablis sauce
layered with spinach, sundried tomatoes, roasted peppers and feta cheese sauteéd in chardonnay sauce
layered with sauteéd broccoli, sundried tomatoes, cheddar cheese and fresh mozzarella in white wine sauce
in white balsamic sauce
stuffed with imported prosciutto and mozzarella in a basil wine sauce with plum tomatoes
lightly breaded and layered with imported prosciutto, asparagus, tomato and mozzarella in lemon wine sauce
layered with diced mangoes and red pepper bruschetta
fresh tomato and onions tossed with teriyaki and rosemary marinade
sweet soy and teriyaki sauce
honey teriyaki sauce
broccoli, zucchini, bell peppers and mushrooms in teriyaki glaze
grilled and sliced with your choice of marinade
Pork

| | |
| --- | --- |
| Baby Back Ribs | Sausage, Peppers & Onions |
dry rubbed then slow roasted

s

erved in sweet pineapple glaze

with imported prosciutto and mushroom

in red wine vinegar sauce

seasoned or stuffed with sausage, imported prosciutto, provolone and roasted pepper

served with side of cole slaw

sauteéd in garlic and oil
Beef

| | |
| --- | --- |
| Meatballs in Marinara | Short Ribs |
in teriyaki soy sauce
with mushrooms in a burgundy wine sauce
sauteéd with onion and bell peppers

served in sherry wine sauce
marinated and cooked in port wine reduction
tender cut sirloin with sliced bell peppers in tomato sauce
with potatoes in sherry wine and tomato sauce
Veal

in light lemon sauce
with mushroom and Marsala wine sauce
breaded with fresh mozzarella and marinara sauce

in white wine, lemon and caper sauce
imported prosciutto, fresh mozzarella and spinach in a Marsala wine and sage sauce
breaded and rolled with mozzarella, genoa salami with basil wine tomato sauce
Seafood

bacon and diced bell peppers
breaded with garlic
served with sweet chili orange dip
crab sauce with lump crab meat over linguine
with a side of homemade dipping sauce
lemon white wine sauce
with a side of Aleo hot sauce (medium heat sauce)
with a side of tartar sauce
with a side of Aleo hot sauce (medium heat sauce)
with a side of tartar sauce
scungilli, calamari and shrimp

white or red sauce
lobster cream sauce
chicken, clams, shrimp, mussels, store made chorizo sausage, and calamari with spanish rice
shrimp, scungilli, calamari, clams & mussels in a spicy red sauce over linguine
plum tomatoes, feta cheese and pignolis
battered shrimp over linguine in lemon white wine sauce
lightly breaded and broiled
over penne with sun dried tomatoes and red bell peppers
over linguine in white wine and lemon sauce
marinara sauce with homemade mozzeralla over linguini
Vegetables

| | | |
| --- | --- | --- |
| Long Hot Peppers & Potatoes | String Bean Almondine | Spicy Califlower |
Artichoke Franchese
Broccoli Rabe
Sauteéd Broccoli
Brussell Sprouts with Walnuts
Sauteéd Carrots with Dill & Onion
Creamed Spinach
French Fries
Fried Broccoli & Cauliflower
Fried Zucchini
Grilled Vegetables
Long Hot Peppers & Potatoes Sauteed with
Onion and Bell Peppers
Mushrooms Casino Bacon & Diced Bell Peppers
Potatoes, Peppers & Onions
Rice & Vegetables (add grilled chicken)

Roasted Potatoes with Fresh Rosemary
Sauteed Spinach with Light Lemon & Garlic
Spicy Cauliflower (served cold) olives,
long hot peppers & cilantro in white wine
String Beans Almondine
Stuffed Breaded Mushrooms (tomato sauce & garlic)
Wild Rice & Grilled Chicken with Golden Raisins
Zucchini Patties
Stuffed Artichokes
Quiche choices;

Broccoli & Cheddar
Ham & Asparagus
Spinach
Mushroom & Bacon
Specialty Salads

| | |
| --- | --- |
| Bowtie Pasta Salad | Fettuccine & Spinach Salad |
rigatoni tossed with fresh tomato, fresh mozzarella, red onion, basil in a light dressing
sundried tomato, fresh tomato in balsamic dressing
arugula, bell peppers, onions tossed in a homemade dressing
in a honey mustard mayonnaise
squash, yellow and red bell peppers, with fresh basil, garlic and oil
asiago cheese, red cabbage with honey dressing
with red bell peppers
arugula, artichoke, olives and sun dried tomatoes

sliced oven baked potatoes tossed with arugula, radicchio, red onion, tomato with vinaigrette dressing
tossed in a light dressing
cheese tortellini, yellow and red bell peppers with balsamic vinaigrette
with olives, sun dried tomatoes and string beans
oranges with our orange vinaigrette
cheese tortellini with bell peppers, garlic and oil
yellow and red bell peppers, red cabbage with tomatoes, garlic and oil
garlic and oil
Desserts

Priced per item.
| | | |
| --- | --- | --- |
| Jumbo Cannoli Shell | Pasta a Croce | Sfogliatelli |
Jumbo Cannoli Shell
Aleo Cannoli
Mini Cannoli
Cannoli Chip Platter
Chocolate Chip Cannoli Cake in
9" or 12"

Pasta a Croce
Mini Pasta a Croce
Rice Pudding
Bread Pudding with Spiced Rum Icing

Sfogliatelli
Mini Sfogliatelli
Peanut Butter & Jelly Ice Cream Pie
Casatelli
Cookie Tray
Chocolate chip cookie cake
Cannoli items above are also available in Chocolate Cannoli Cream.
We make all of our dishes fresh daily, please call for our specials of the day.
Check out our Facebook page for holiday specials.
Gluten Free options available, please call ahead 732-747-0111.
Gift Certificates available.